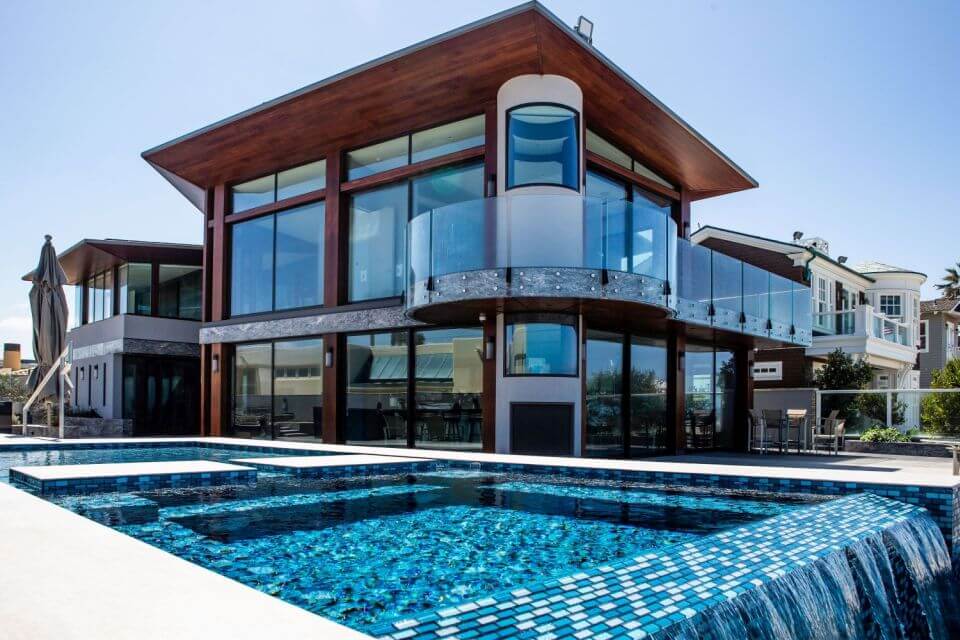 26 Jul

Seaside Custom Estate in Southern California Highlights KCM Group's Residential Portfolio

KCM Group recently completed this gorgeous project in Southern California. At nearly 10,000 square feet, this two-story custom home over a full basement incorporates a large rooftop solar system with battery storage to power the 5-bedroom, 5-bath home. The owner also installed on-site geothermal wells to expel heat generated by the air conditioning system, which eliminates the need for exterior condensing units to eliminate fan exhaust noise in the neighborhood.

Its basement and underground parking were constructed with a special deep-water foundation system. The concrete used to construct the basement utilized the sand and large beach rock (aggregate) that was existing on the home site. Use of these on-site materials eliminated the need for purchase of these natural resources. The concrete was mixed on-site, reducing the amount of carbon emissions that would have been exerted if local concrete mixing trucks were used. This environmentally friendly construction planning also reduced the amount construction traffic from the already congested beach town.

In total, the project took over four years from inception to completion. As the owner's direct representative, KCM provided the client with preconstruction services, utility relocation management, permit processing, agency coordination, interior design coordination, general contractor selection and fee negotiation, contract development and administration, consultant and vendor management, payment processing, and managed the lien release requirement and insurance compliance.

The project was managed by KCM Group's Senior Project Manager Steven Kiss.