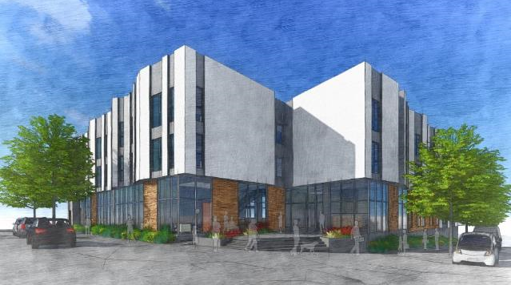 12 May

KCM Group Selected to Manage Construction of New Affordable Housing Development for Wakeland Housing

Wakeland Housing and Development Corporation, a leader in the creation and operation of affordable housing in California, has selected KCM Group as construction manager for its newest affordable housing community in San Diego's Grantville neighborhood. This is the fifth time the two companies have partnered on an affordable housing construction project.

The new development, called Trinity Place, will create 74 affordable homes for chronically-ill seniors who have experienced homelessness. Providing secure housing for this vulnerable population is an important element in addressing the homeless crisis we face in our region.

Trinity Place will consist of a four-story, 44,000 square foot building with 74 studio units and an outdoor amenity space for its residents. It is located at Glacier Avenue between Mission Gorge Road and Riverdale Street and is about a mile from the Grantville Trolley Station, providing residents with convenient access to regional transit. Construction began in April 2020 and is anticipated to be complete in October 2021.

"KCM Group takes a professional, proactive approach to managing the complexities of the construction process and helps us keep costs within budget and construction timelines on schedule," said Elizabeth Bluhm, Director of Development at Wakeland. "These are valuable services in any project, but in affordable housing development, budgets are always tight and schedules are subject to strict time constraints, so achieving these goals is essential.

Cost for the new housing community is estimated at $33 million.

KCM Group has been supporting the affordable housing industry for nearly seven years. In addition to working with Wakeland on several developments, they have also provided support in affordable housing for both the San Diego Housing Commission and Civic San Diego and are members of the San Diego Housing Federation.