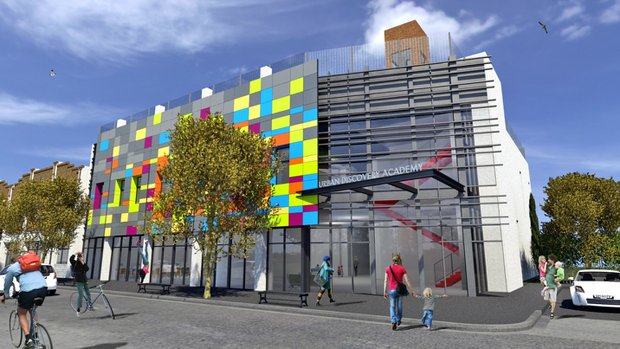 07 Nov

KCM GROUP'S ROLE IN SAN DIEGO'S URBAN DISCOVERY ACADEMY CHARTER SCHOOL

Urban Discovery Academy finds new home in East Village
After financing setbacks, ground is broken on charter school

By TONY LOVITT, Special to The Daily Transcript
Wednesday, February 25, 2015

Bonds of about $10.5 million have been obtained for use in the ongoing construction of the Urban Discovery Academy, a K-8 public charter school in San Diego's East Village neighborhood, said Gordon Kovtun, founder and principal of KCM Group, a full-service construction management and consulting firm that is overseeing the relocation and construction of the school.

"We were introduced in this assignment because the project previously had a number of challenges, the most significant being that of obtaining financing," Kovtun said. The company was enlisted by the law firm Procopio, Cory, Hargreaves and Savitch to help analyze and remaster the financing plan and the project delivery so that funding could be obtained, Kovtun said.

Kovtun said the financing plan called for the UDA itself to obtain the financing for the project through a tax-exempt bond market that is becoming very popular in the charter school market.

The Urban Discovery Academy, a K-8 charter school, will be relocating from Balboa Park to Silo at Makers Quarter. Image courtesy KCM Group

"The original arrangement was that the UDA would be a tenant under a lease with the developer, who would develop the project. But financing was becoming an issue and, of course, time was becoming an issue, as well," Kovtun said.

"So, we worked with the development team and UDA counsel to essentially re-engineer the project delivery such that the UDA could hold the contract for the design-build approach, as well as the land lease.

"As the owner's project manager, our role is to represent owners in their construction projects, so we worked very closely with Procopio's bond counsel, Chip Eady, to facilitate the intensive bond process, ranging from providing cost estimates to risk assessments and contingency planning, which is extremely important to bond brokers and investors," Kovtun said.

MaeLin Levine, Urban Discovery Academy board president, praised KCM Group's role in the project.

"Urban Discovery Academy is fortunate to reach an important milestone in the construction process," Levine said. "This project has faced some unique challenges, and KCM Group's expertise has been crucial to getting us to the school's construction phase."

Under the aegis of KCM Group, Urban Discovery Academy is moving from its home for the past six years, a rented space on Sixth Avenue across from Balboa Park. The new UDA will be permanently located at Silo at Makers Quarter on 30,000 square feet of property along the western side of 14th Street between E Street and F Street.

In addition to the school facility and outdoor parking, a gymnasium, library, art studio and a rooftop playground are among the amenities planned for the new UDA, Kovtun said.

According to a recent KCM Group release, the project will continue nearly a century of educational use of the site by incorporating and renovating a historic two-story, 20,000-square-foot College District building and integrating it with a new two-story, 16,000-square-foot learning space.

"Besides the UDA's curriculum, the location is very well-suited for their existing students, as well as those families moving into downtown for the live-work environment," Kovtun said. "There are also a number of other entities that are interested in teaming with UDA to use the facility and advance the program and mission of educating the kids."

Kovtun said that construction continues on schedule toward completion in July.

"The students are coming in September, so it is our every intention to be ready for those kids," Kovtun said.

-Lovitt is a La Jolla-based freelance writer.