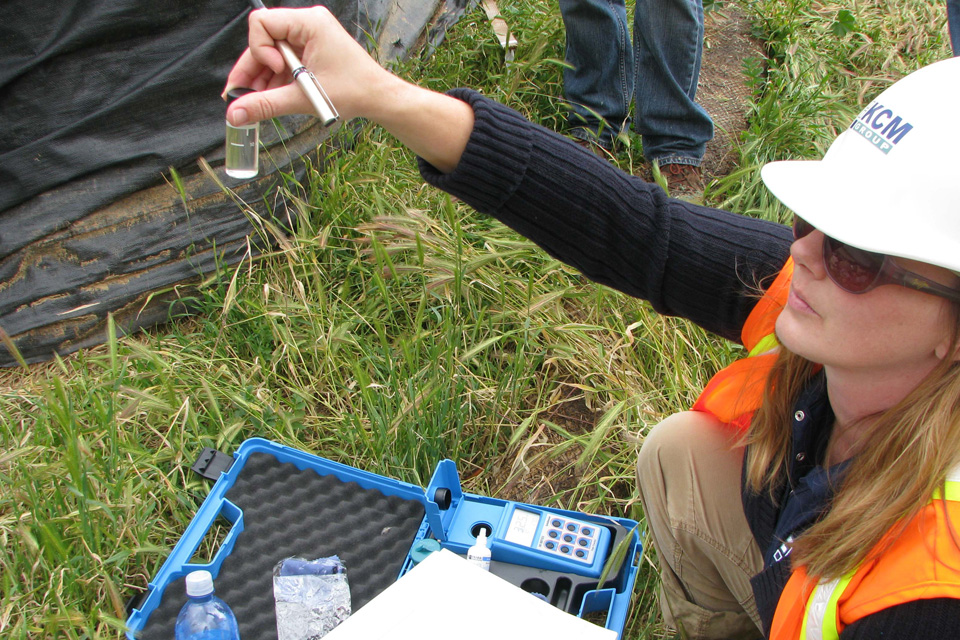 15 Oct

Effective Stormwater Pollution Prevention Saves Money and Time

Environmental compliance expert Erika Horn of KCM Group Construction Management and Consulting in San Diego comments on stormwater pollution prevention.

As far as environmental compliance is concerned, it's up to builders to meet federal, state and local regulations. This is why storm water management is crucial within construction projects through a stormwater pollution prevention plans (SWPPP).

"Often there's a disconnect due to many regulations builders and developers are required to comply with from building materials to environmental and biological requirements," said KCM Group's senior environmental compliance manager Erika Horn. "Our main goal in the environmental compliance department to keep our clients informed and take appropriate action.  We help them stay compliant to avoid delays in a project's progress."

Changes recently made to the city of San Diego's stormwater standards manual went into effect October 1. They include more restrictions and are more reflective of state requirements surrounding compliance with environmental regulations. Compliance falls on the shoulders of the landowner or developer. Costly fines and project delays occur when proper permits are denied for noncompliance.

KCM Group's environmental compliance department helps clients navigate all of those responsibilities. The team serves as a bridge between the engineering department and the actual field implementation of best management practices (BMPs).

"If developers are looking for a firm to help them navigate this process they're already taking a step in the right direction. Subtle nuances from the state down to the municipal level can make compliance complicated. We make sure our clients are informed and educated. We want them to have the tools they need to perform as well as they can in the field."

The level of detail required for storm water mitigation can sometimes be a challenge for developers. It is important to involve a firm early on in the process.

"There's a lot of scheduling and planning involved," Horn said. "Get ahead of the planning process to manage stormwater for your construction project and it is less of an issue when the rain comes."

A forecasted rain event triggers an action plan to stabilize construction in order to prevent sediment from leaving the site and causing contamination. A tackifier application to "glue" the dirt in place is one preventative approach. But, this is just one tool in what should be a comprehensive strategy.

"The goal of stormwater regulations is to have sediment come off in such small increments so it doesn't impact the biological integrity of the water," Horn said.
"Samples taken during a rain event and must meet certain thresholds. We make improvements to BMPs when these are not met."

Horn's team makes recommendations based on previously used products and what types perform best over time.

One nuance regarding product performance in San Diego is its microclimates, which create a mix of coastal and terra environments. For example, the majority of coastal projects include a mixture of sand and clay. These soils aren't as cohesive with traditional tackifiers and therefore require a higher end product.

Stormwater management lasts throughout the project's lifetime.  Therefore, KCM Group offers an annual specialized training for clients without qualified SWPPP practitioner certifications.

The two to four-hour class goes over current regulations, best management practices, rain triggers and paperwork requirements.

"We're going to cover all your paperwork gaps," Horn said. "our team will attend planning meetings and head off unforeseen problems. We can also coordinate with subcontractors coming on board."

In general, there just aren't enough best management practice contractors to go around. So, if you're a builder, you've got to be ready for a potential rain event and have an experienced firm ready to come on site.

"Once rain is forecasted, you've got 30 sites vying for five crews of 15, so there isn't enough manpower. The expectations within agencies are that you have the available resources. If you don't, it's not their problem, it's yours."

KCM Group's environmental compliance department prides itself on being readily available for its clients and provide them with the most relevant information to be prepared. The steps are simply – plan, permit, inspect, sample, and eventually, terminate the permit. Doing this effectively takes the right experts and getting ahead of SWPPP in the development process.

"My best advice is to engage SWPPP experts early to ensure continuity through the lifecycle of the project," Horn said. "Making assumptions with this aspect of development can prove costly when a relatively small investment upfront could avoid preventable delays."

Erika Horn started at KCM Group in 2009 and has more than 15 years of experience in environmental compliance. All of the department's staff hold certifications as Qualified SWPPP Practitioners (QSPs). The team also includes Qualified SWPPP Developers (QSDs).